Dont' just take our word for it – hear what others have to say

"In conjunction with the wide tires, it absorbs a lot of slight bumps and offers a level of comfort that you are not used to from a commonly rigid aluminum hardtail."
— Stefan Weißenborn, Welt, June 2022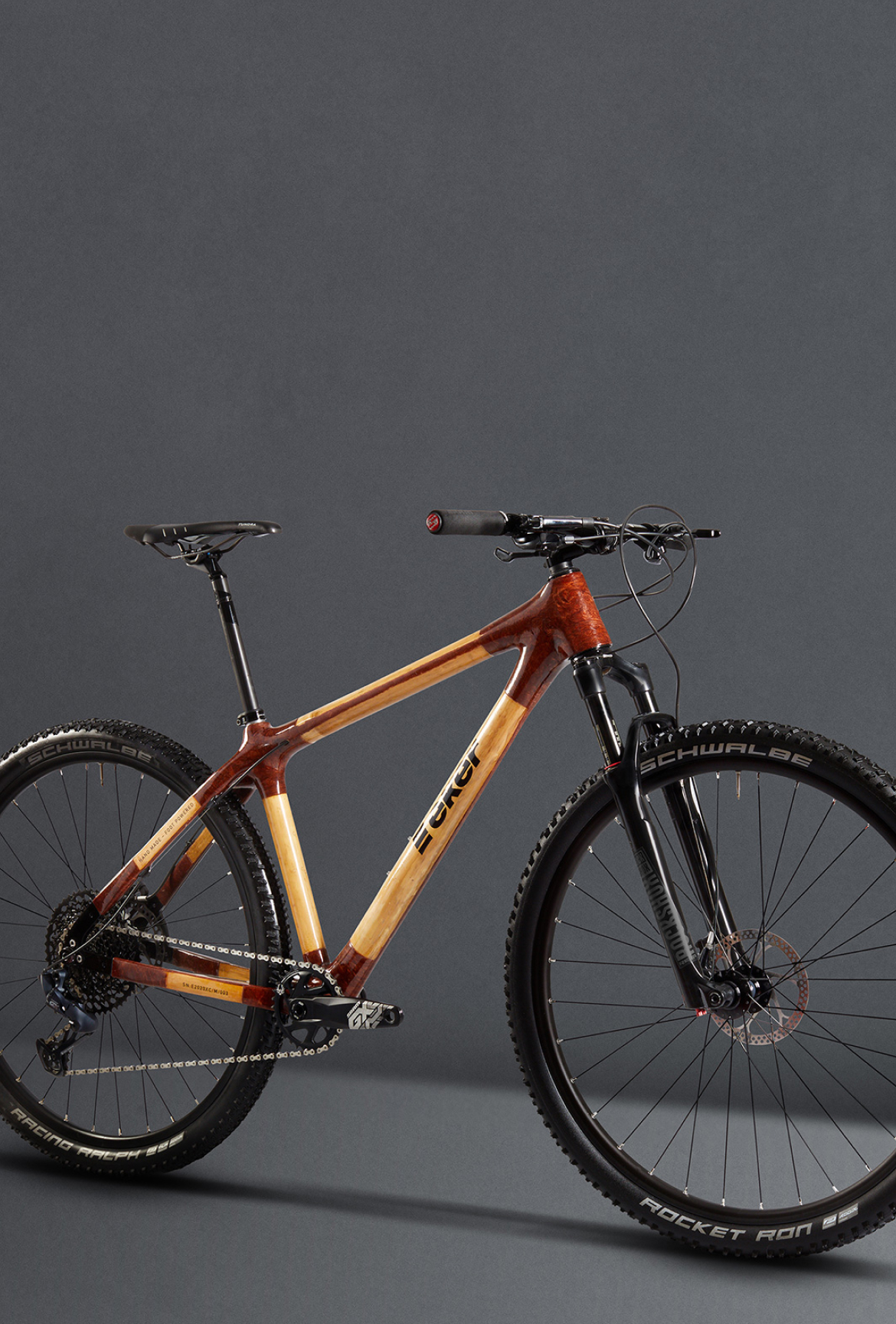 Dont' just take our word for it – Hear what others have to say

"In conjunction with the wide tires, it absorbs a lot of slight bumps and offers a level of comfort that you are not used to from a commonly rigid aluminum hardtail."
— Stefan Weißenborn, Welt, June 2022
Eker Bikes – handmade bamboo bikes
Mountain Bike
Through the terrain with style. Eker Stark is a cross country mountain bike that is swift, strong and elegant. The hand made frame can withstand extremely tough riding in all types of conditions.
Gravel
Explore the dirt roads. The Eker Grus gravel bike combines a light and rigid constructed frame, with top of the line components. The light frame is very suitable for commuting or bikepacking.
The power of transparancy
Why do we value independent reviews? Because we know that trust is earned, not claimed
By providing an opportunity for experienced riders and industry professionals to test our bamboo bikes, we ensure that their expert opinions reflect the genuine quality and performance of our products. We believe in the power of transparency, giving you access to authentic feedback and an honest assessment of our bamboo bikes' capabilities.
We understand that when it comes to investing in a bicycle, you want the utmost assurance that you're making the right choice. That's why we believe in letting independent reviewers from renowned bike magazines take the handlebars of our bamboo beauties. These experts are known for their unbiased evaluations and meticulous scrutiny, ensuring that every aspect of our bikes is put through its paces.
Welcome to the world of bamboo bikes, where innovation meets sustainability and performance blends with natural beauty. At Eker Bikes, we have crafted a collection of mountain bikes, gravel bikes, and road bikes that redefine what it means to ride in harmony with the environment.
But don't just take our word for it — our passion for transparency and excellence has led us to put our bamboo bikes to the ultimate test.

Die Welt is one of the largest and most influential newspapers in Germany. Known for its comprehensive coverage of national and international affairs, Die Welt holds a prominent position in the media landscape, reaching a vast audience with its extensive reporting, analysis, and commentary. Its wide readership and reputation for journalistic excellence make it a crucial source of information for individuals seeking reliable news and insights in Germany.
The reporter Stefan Weißenborn writes that "when in the saddle you never have the feeling that the energy is lost when pedaling. At the same time, the frame is pleasant to ride. Together with the wide tyres, it absorbs a lot of bumps and offers a level of comfort that you are not used to in other hardtail bikes. In short: the mix of the damping properties, the flexibility and efficient stiffness feels successful. And the bamboo look adds an extra effect: wide-eyed passers-by and people who enquire about your bike, is engrained in the vintage-look of the bicycle.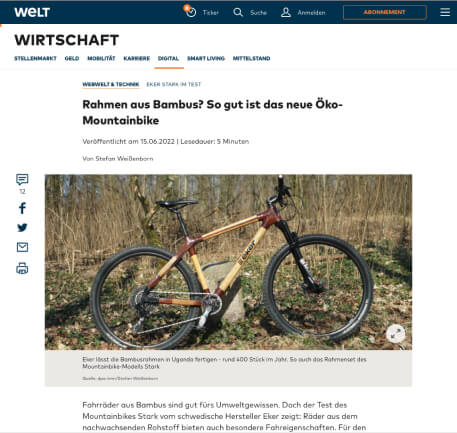 Bike Magazin is a renowned and respected publication in Germany, dedicated to all things related to cycling. With its substantial readership and comprehensive coverage of the cycling industry, Bike Magazin holds a prominent position within the German biking community. Known for its in-depth reviews, expert insights, and captivating features, Bike Magazin serves as an invaluable resource for passionate cyclists, offering a wealth of information on the latest bikes, gear, and cycling trends.
"With every turn of the crank my scepticism disappears"
Peter Nilges, Bike Magazin
My fleeting glance down suggests I am sitting in a bamboo rocking chair. But the knotted tubes so typical of seating furniture have been artfully joined together to form a diamond frame. With every turn of the crank, my scepticism gives way: I can really trust the naturally grown tubes. The lab results also give the green light.
The bamboo frame weighs 2905 grams and is thus on a par with a steel frame. Even the measurement of the central stiffness certifies the Eker Stark a decent, if not outstanding value. With 45 N/mm, the bike can be steered precisely over the trails, and the bamboo frame generates sufficient propulsion even in powerful cranking.
Thanks to the slim 27.2 mm carbon seatpost and the bamboo material, the Stark is very comfortable to sit on. Small bumps are filtered very well, and even when standing up the bamboo bike rides very pleasantly and passes on fewer shocks to the rider than many a stiff aluminium or carbon hardtail. The geometry of the bike from Uganda is based on classic values: the steering and seat angles are rather steep, it steers directly and offers a good climbing position.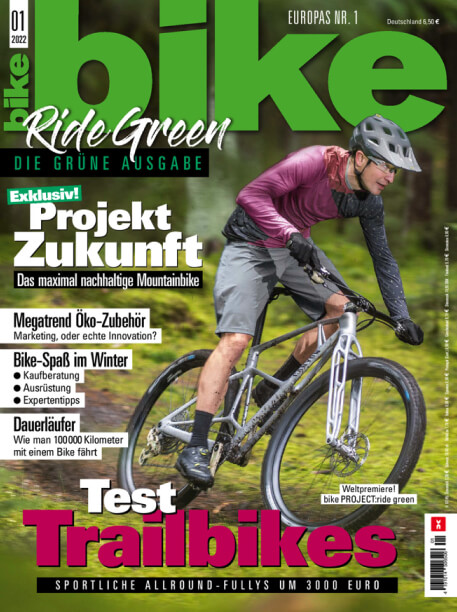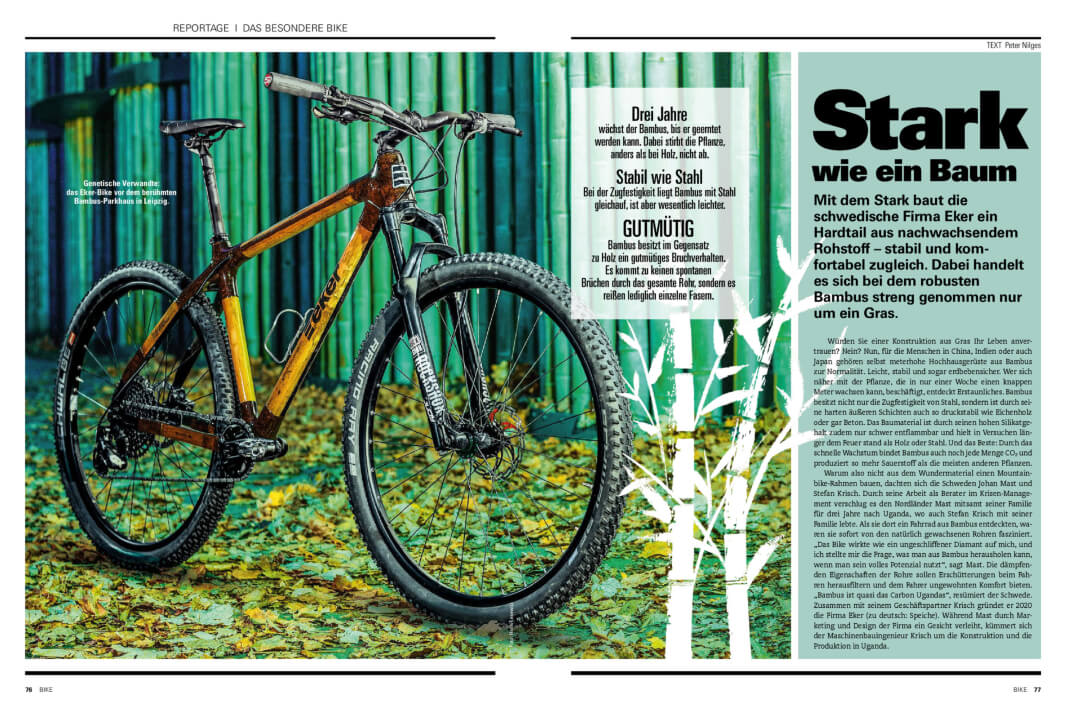 Bicycling is a prominent and highly regarded cycling magazine in Sweden. With its dedicated focus on all aspects of cycling, from road biking to mountain biking and everything in between, Bicycling has become an essential resource for Swedish cycling enthusiasts. Known for its engaging content, informative articles, and expert reviews, Bicycling provides readers with valuable insights, practical tips, and inspiring stories to fuel their passion for cycling. As one of the leading cycling publications in Sweden, Bicycling plays a vital role in shaping the cycling culture and community within the country.
It is not as stiff and responsive as carbon fiber, but it is also not as rigid and lifeless as aluminum. In short, the frame and the bike simply feel different and, well, alive in a way. I am mostly amazed by an experience that I can't quite put into words. But at the same time, perhaps that becomes defining for whom the bike is intended. This is the bike for those who seek something different and unique, something that stands out - or perhaps for those who prioritize sustainability above all else.
Daniel Breece, Bicycling Magazine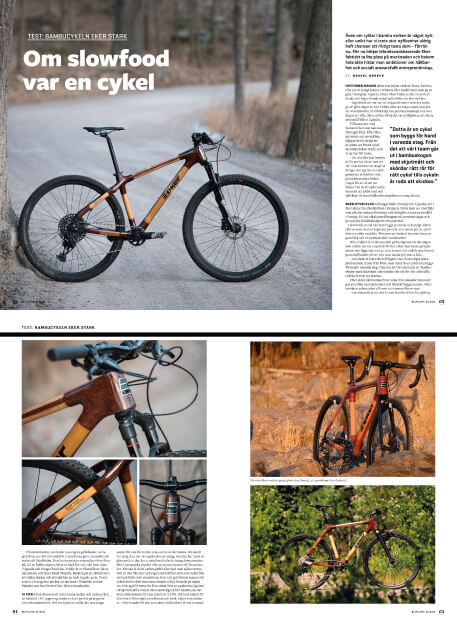 ABC Design Award
The ABC Awards, organised by the German Design Council, honours globally renowned and forward-looking brands, their innovative designs and concepts within the world of future mobility. In 2022, Eker Grus by Eker Bicycles AB was awarded Winner in the category "Bicycle".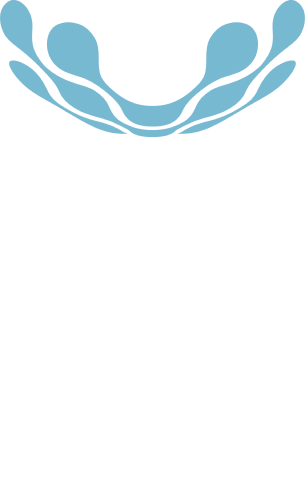 Eker bikes are hand made
Efficient and precise, our bamboo bikes are crafted with human finesse that sets them apart. Picture this: our skilled artisans harvesting and cutting the bamboo by hand, delicately wrapping it with epoxy, shaping and sanding it with meticulous care. And that's not all; the manufacturing requires minimal electricity except for the occasional jolt from an angle grinder or handheld drill.
Now, here's the beauty of it all. Since bamboo is a natural material, no two tubes are identical. This calls for the art of selection and craftsmanship to strike the perfect balance between weight and strength.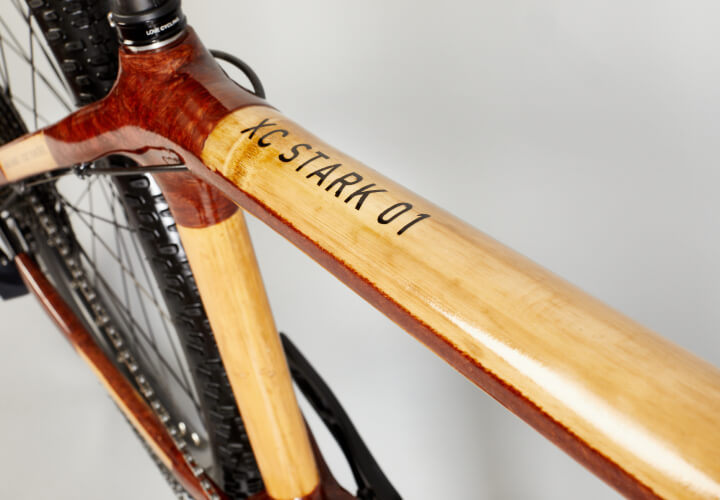 It takes experience to choose the proper bamboo tube
You see, even two bamboo tubes with the same outer diameter and inner diameter can vary in weight. It all comes down to the density of the bamboo, the number of fibers packed into a square centimeter. It's a delicate process of touch and feel, choosing the right tubes, and adhering to our quality standards. Some tubes may be deemed too heavy or dense, while others may be too light or frail. And when these tubes are brought together, they may need a little extra trimming, some rasp work, to fit snugly into the frame being built. It's like coaxing a natural-growing material to work harmoniously with bike components that demand precision.
Just imagine, that bamboo in the chainstay, nestled between the tire and front chainring, must not vary more than the thickness of three credit cards —2-3 millimeters—to ensure the chainring won't scrape against it.
The right tube for the right bike
But that's not all. Handcrafting our bamboo bikes means reduced waste and endless possibilities. Our builders can handpick the right tube for the right bike, knowing that a tube rejected for one frame might just be the perfect fit for another. This level of customization and attention to detail simply can't be achieved in mass production. In those factories, bamboo would be ground down, processed, and molded into uniform tubes, losing the uniqueness that defines our bikes.
Each bike is one-of-a-kind
And speaking of uniqueness, our handcrafted approach allows us to meet the most unique needs of our customers. We can create one-of-a-kind, bespoke frames that cater to their wildest cycling dreams. It's something the big, traditional bike manufacturers just can't replicate.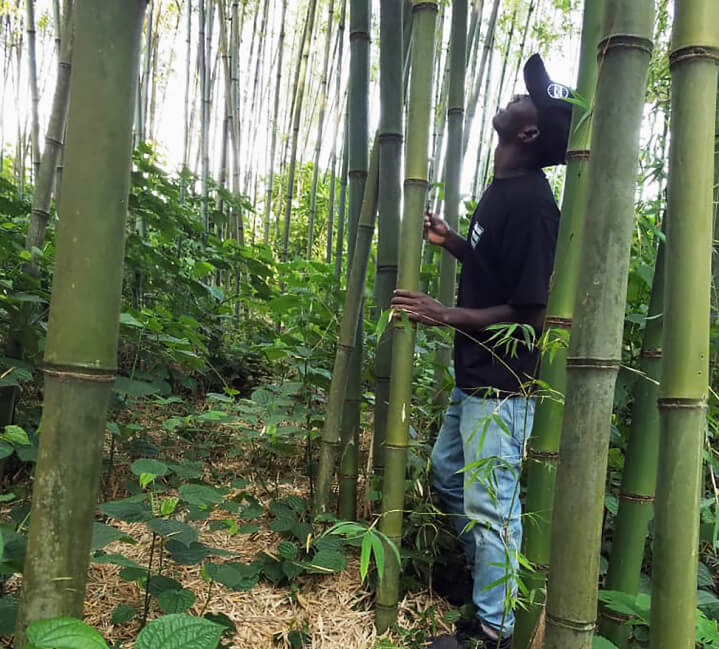 So, when you ride one of our bamboo bikes, you're not just experiencing an extraordinary piece of engineering. You're embracing a work of art that carries the soul of its craftsmen.
No two frames are entirely alike; each one has its own character, its own texture, its own story. It's like savoring a fine vintage wine—every sip, every pedal stroke, a unique and unforgettable experience.
Ride with the essence of nature, the precision of human hands, and the thrill of knowing you're on a bike unlike any other.
93 % reduction in net greenhouse gas emissions

1,9 kg CO2e net emission of greenhouse gasses

56% reduction in global warming potential

Sustainably grown bamboo
When it comes to environmental impact, Eker frames are a clear winner. While a traditional aluminum frame emits a staggering 28.6 kgCO2e of greenhouse gases, an Eker frame emits just 1.9 kgCO2e.
That's a massive reduction in carbon emissions!
But the benefits don't stop there. By choosing an Eker Bicycle frame over the aluminum alternative, you're making a significant difference in reducing global warming potential. The use of fossil sources is slashed by an impressive 56% (GWP - Fossil) from cradle to gate. And when considering the overall impact (GWP - Total), the reduction skyrockets to an astounding 93%.
What's the secret?
How do we achieve such impressive reductions? It's a combination of factors. Firstly, our bamboo frames require fewer aluminum components, which helps decrease the overall carbon footprint. Additionally, bamboo has a remarkable ability to store carbon both in the soil and within the frame itself. This natural carbon sequestration adds to the substantial reduction in greenhouse gas emissions.
So, by choosing an Eker Bicycle frame, you're not only getting a high-quality and stylish ride, but you're also actively contributing to a greener future. It's a win-win situation for both you and the planet. Let's pedal together towards a more sustainable and environmentally-friendly cycling experience.
Join the bamboo revolution and sign up for our newsletter
Mountain Bike
Through the terrain with style. Eker Stark is a cross country mountain bike that is swift, strong and elegant. The hand made frame can withstand extremely tough riding in all types of conditions.
Gravel
Explore the dirt roads. The Eker Grus gravel bike combines a light and rigid constructed frame, with top of the line components. The light frame is very suitable for commuting or bikepacking.